Weaponized Crab Apples, Sizzling Tips and the Cat in the Hat
Friends and colleagues,
The rock-hard crab apple hit my collarbone as if it had been shot from a cannon.
In fact, the fruity munition had been launched expertly by my younger brother, Eric, who had plugged it on the thin, whittled end of a willow branch and propelled it in my direction after spotting me hiding behind a stone wall in our neighbor's yard. I was ten years old at the time, angry as a hornet, and my pain tolerance was low. As I writhed on the ground, I unleashed invective so salty that my neighbor, Mrs. White, who'd returned from a stroll down Woodlawn Avenue, ran into her house blushing and called my mother. I clearly remember her yelling, "Gail, I think he's possessed!" Fast forward decades later and, like many of us in the marketing community, I feel like I'm again in a defensive crouch, hoping not to get beaned by an apple (or Apple, or Macintosh..) but by the often unrealized promise of marketing automation and the maddeningly unpredictable behavior of customers. We are, fellow human marketers, an embattled species right now.
Ok, that post-apocalyptic story told, please allow me to sling some carefully curated tips and ideas at you:
Tips and Topics
Don't spoil the "child"… A very common pitfall for clients using the popular WordPress site content management and website platform is to make the customizations to the actual theme (basically, the design template) they have selected, instead of creating a "child" theme. A child theme is essentially a sub-theme which references your original theme, and only contains those bits of code and stylesheets that you apply your customizations to. If you do not use a child theme, there is a very real danger that, when the theme vendor releases an update to their theme, applying that update will wipe out all the customizations you have done, and essentially "break" your website. Has your head exploded? If so, apologies. If this makes sense, you're welcome.
Dress up for strangers, dress down for friends. When we meet new folks – personally or professionally – we tend to wear our best outfits and are more careful about what we say and do. We want to make a good first impression. Alternatively, when we get together with friends or colleagues (hey, that's you, people) we dress down, relax and tell stories about say, our childhood in northeastern Pennsylvania. Well folks, this is a good way to think about the look, feel and voice of your marketing communications. When reaching out to prospects, put your best foot forward from a design standpoint. Your voice and diction should be clear and purposeful. But when communicating with your customers, let your proverbial hair down a bit, show them you understand and appreciate them, reference a previous interaction, use their first name and tell your designers and developers to take a latte break. We've done a lot of testing and analysis to back this narrative, so relax, friend.
Who's your data? We've been spending a lot of time working with clients to ensure they are collecting the right data on customers and prospects and using the most important aspects of that data profile to enhance the experience these audiences have with the company. In order to do that, you need to know where your data is coming from, have ways to validate, "clean," and consolidate it, and ensure that the data feeds back and forth to your customer- and prospect-facing contact points and systems. Got it, doing it, shut up Bower, you say. But I'd bet you a turkey leg, you've got significant data and data architecture issues you may not even realize.
Find a mechanic with a bedside manner. Find tech and marketing partners who focus first on your business opportunity or challenge before asking you to add yet another layer of software to your proverbial "stack." In other words - and fewer of them - look for technologists first, technicians second.
Trade no. Trade shows are great places to see old friends and industry colleagues in one place in a relatively short amount of time. But let's be honest; most of these shows are relics of a bygone era. Out of five sessions you go to, maybe one or two are worth your time. And you likely spend inordinate time hiding in the corners of cavernous conference centers to avoid pesky biz dev folks. Your cost per lead and/or opportunity is likely obscenely high. So a painfully obvious, but rarely heeded suggestion: Stop going to all but the top two to four shows and use the savings to develop a better mousetrap, a superior user experience and/or reward your top performers (you know, your "human" resources…).
Icon or I can't. We love our icons. In an increasingly mobile world, they've become the visual shorthand we use to direct our customers' and prospects' actions. But riddle me this, digital mavens: If you asked 10 of your visitors what the icons mean and tell them to do, would at least 8 of them return the same answer? If not, you're creating confusion and frustration for your visitors. So if your iconography is too blurry, esoteric or over-designed, get it fixed, revert back to a trusty quick-link or get thee to a trusted UX designer.
Why build when you can renovate? Many of you have built impressive suites of content that are no longer delivering the results they used to. Long form case studies might not be as appealing as infographics. Those 24-page eBooks you wrote might now be off-putting to time-starved prospects. Too often marketers respond to this issue, by starting again, building entirely new content. But may I ask the parsimonious problem-solvers among you to consider refreshing your existing content rather than replacing it? This means your tome-like eBook can yield 7-10 infographical "briefings" and your 8 page case study can become 2 or 3 Q&As. And guess what? This "reno" will take less than half the time and less than half the cost and you'll be a shinier, happier person. Promise.
Get SMART. Or not… Emerging trend we're seeing: Supplementary Marketing Resourcing and Training (yep, SMART). If staffing is too costly or frozen, your agency of record's inflexible scope is choking you, freelancers are too flighty and unpredictable, plugging in a marketing SWAT team that can quickly and efficiently help you plan and execute across a range of channels on a range of martech systems is increasingly the answer. Keeps your costs lower and variable, greatly increases your odds of meeting your KPIs and brings your blood pressure down to a low boil. Or there's always business as usual...
Cat in the hat
Oh, hi. Yes, ma'ams and sirs, that's you wearing the cap below. You'll be a feline, feeling fine. Just respond to me with a tip of your own and we will send you a hat (while supplies last).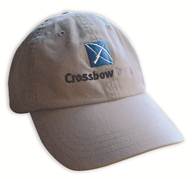 As always, if I can do anything for you – make a connection, share some experience, Photoshop imperfections from your LinkedIn profile picture - please let me know.
Thanks again for your patient indulgence. Have a great day!
Best


Contact
Headquarters
Crossbow Group, LLC
136 Main Street
Westport, CT 06880
Phone: 203-222-2244
Fax: 203-226-7838